Lake Logan is happy to welcome day guests who want to enjoy recreation activities on our property. A season membership allows you and your family to enjoy Lake Logan amenities year-round for one annual fee. Review our rates and policies below. Please read all policies before applying for membership or reserving a day pass.
To reserve your day pass:
Reservations are required – even for members.
Season members may make reservations here. A password is required.
If you do not have a season pass, purchase your day pass or fishing pass online after you've read this entire page. Passes for non-members are available two weeks in advance.
Groups larger than 12, and groups who would like private use, please call or email us.
Weekend reservations must be made no later than 3 PM on Friday.

Each guest must have signed a registration/release form on file. These must be updated annually. You can complete your form here.

Please note, day passes to the general public for swimming/boating/fishing/hiking are not available when Camp Henry is in session early June through July) or on Saturdays and Sundays May through August). These days will be reserved for members, *guests of members, and overnight guests.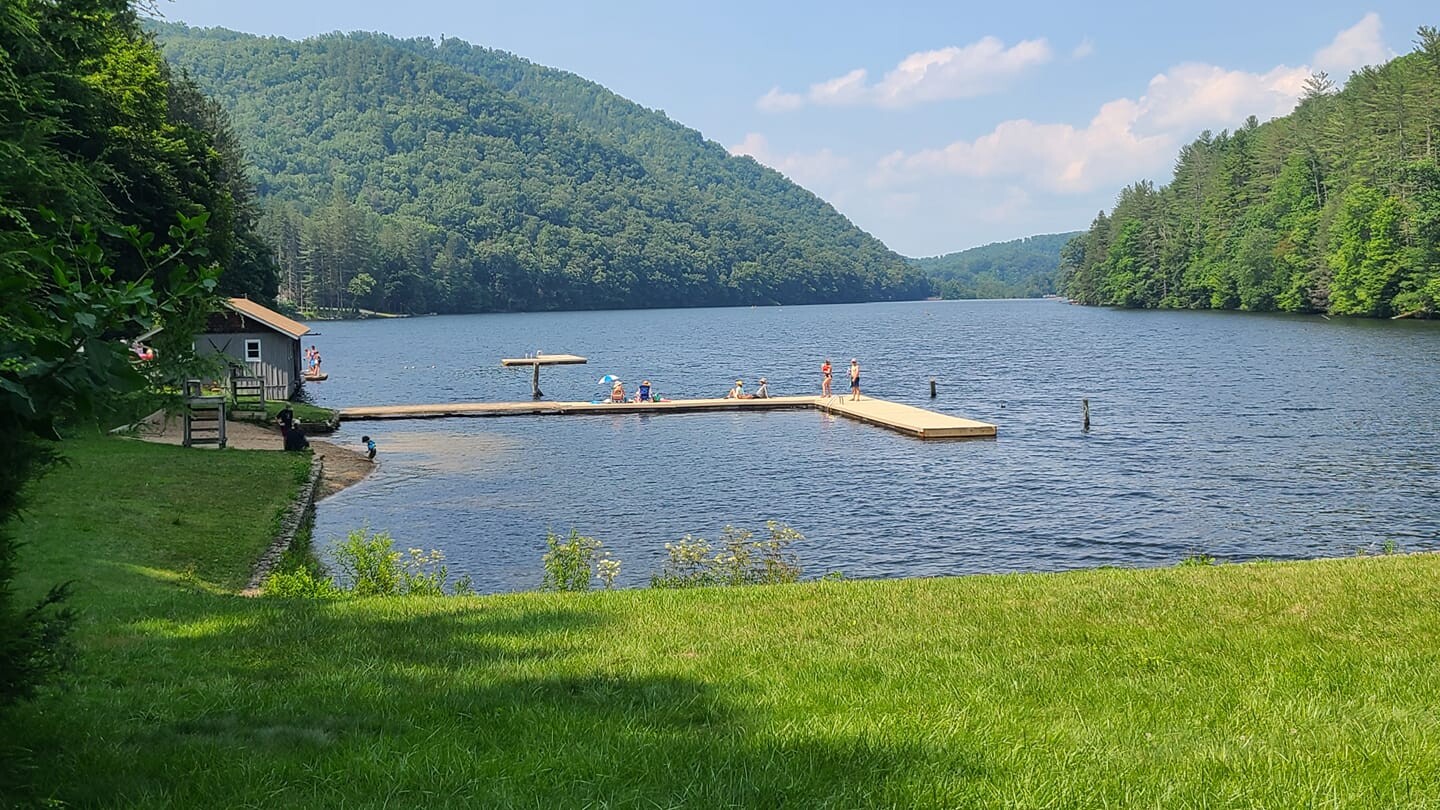 Day Pass Rates
Availability:
September through April: Daily
May through early June: Monday through Friday
Mid-June through July – not available
August: 

Monday through Friday
Day Pass: Swim/ Boat/ Hike / Picnic

includes boats

…

$16 per person, minimum of 2 people

10 and under are free with a pass purchase

Day Pass: Fishing (half or full day) 

lake only
includes boats

…
$45 per person
Boat Rental
…

included in day pass rate

Professional Photographer Day Pass
…

$25 plus $5 per subject*

Call for reservations.

Hiking Only

available at this rate when the lake is closed (typically November through March)

…

$6

Lunch
…
typically $15. Call for details and reservations.
(*intended for professional photographers who will be charging clients for photo sessions, not hobby photographers. Call or email to reserve a photographer's pass.)
2023 Season Membership Rates
2024 Season Memberships will go on sale around the end of October. All memberships must be purchased online.
 

Individual

Family

(2 adults / 4 children under age 18)

Level 1:

Swim/Picnic/Hike/ Boat

$130

 

$210

Additional children ages 11-17 are $25 each.

Level 2:

Fish – Lake

(includes level 1 amenities)

$220

 

$325

Additional children ages 11-17 are $25 each.

Level 3 (SOLD OUT):

Fish – River

(includes level 2 amenities)

 

$290

 

$395

Additional children ages 11-17 are $25 each.

 

For $40 per vessel, members may purchase watercraft registration and bring personal watercraft to the lake. Learn more here.
Because we only offer a limited number of Fishing Memberships, as space is available, we offer the opportunity for Level 1 members to purchase a day lake fishing pass for only $20 per day, and Level 2 members to purchase a day river fishing pass for only $20 per day. Members may call for details.
Season members receive 10% off camping.
Policies for Season Membership and 
Day Guest Pass Holders
Our Day Passes and Season Memberships are for recreational use only, no professional business allowed.
Guests – even those with a season membership – must make reservations in advance. Check the website for availability. Reservations for the weekend must be made by 3 PM on Friday. We limit the number of guests each day, and during warmer months, we do fill up. Do not call or email on the weekend to make reservations for that same weekend as our office will not be open.
The membership cycle runs from January to December. The lake is open for season members and guest pass holders from April 1 through mid-November (weather permitting). If the weather is unseasonably warm, we may open the lake early or keep it open later. If the weather is unseasonably cold, we may have to close the lake early or open it later. No refunds will be issued.
Season memberships for the following year typically go on sale in October. Sign up for our newsletter to receive notice when memberships go on sale. We sell a limited number and recommend purchasing early to be sure there is availability. Members should be sure you can receive our e-news as we will sometimes send important information for members via our e-news system.
Reservations must be made online. 
Day passes may be purchased here up to 30 days in advance. (For large group reservations, please call 828.646.0095 ext 2.)
Weekend reservations must be made by 3 PM on Friday.
Guest passes are good from 8 AM to dusk for the date for which they are issued. Times available are subject to change.
Guest passes are only available when the lake and other requested amenities have not been reserved by a group. Lake Logan reserves the right to deny the use of the property at any time. That is why it is imperative that everyone (including members) make reservations.
Each guest must have signed a registration/release form on file. These must be updated annually. You can complete your release form here.
Members and day pass guests must wear a Lake Logan-issued wristband while on the property and must display their parking pass in the front window of their vehicle.
When the Boat House is not staffed, day pass guests will stop by the Main Lodge (M-F 9 AM to 5 PM) to pick up a wristband and parking pass. 
If the day pass guest arrival time is scheduled after 5 PM, please contact the office during office hours () to make arrangements to pick up a wristband and parking pass.
Members will receive a wristband and parking pass for the year. Replacement wristbands and parking passes are $20. There is no need to stop by the office.
If you would like to purchase a to-go lunch, please email info@lakelogan at least 72 hours in advance. If no other guests are being served lunch, a minimum number of to-go lunches may be required.
Please review the following rules with all members of your party:
All activities are done at your own risk. 
Camp Henry is in session during the months of June and July. Due to privacy and safety policies, we ask that you be mindful of spaces that are being utilized for camp, including the waterfront, field and areas on the Eastside of property, during this time frame. Thank you for your cooperation.
The waterfront is closed during June/July between 4PM – 6PM for Camp Henry and will not be accessible during this time.
Children and youth ages 16 and under must be accompanied by an adult. 
Park on the Air Strip, by the tennis courts, or near the office. Be sure your parking pass is easily visible on the dash of your car. Do not park on roadways.
Wear your wristband so that it can be easily seen.
Do not swim or boat if you hear thunder or see lightning.
Swim in the swim area only.
Do not enter guest lodging or meeting spaces.
Do not litter.
There is no smoking in the swimming or boating area. This includes vaping, e-cigarettes, juuls, and the like.
Well behaved dogs are welcome. Owners must keep dogs on a leash at all times and clean up after them. Lake Logan reserves the right to revoke dog privileges at any time. Please note, we have several friendly animals (dogs, cats, and chickens) who live full-time on the property. If your dog does not play well with others, please keep him/her at home. Before bringing your pet to Lake Logan, please read our entire pet policy.
Follow directions on all posted signs.
The docks on the side of the lake opposite the boathouse do not belong to Lake Logan. They are private property, and Lake Logan members and guests should not use them.
We recommend guests never hike, swim, or boat alone.  
For fishing
A valid North Carolina fishing license is required.
Lake Logan waters are catch and release only.
Single hook only. No live bait. No scent/flavor.
Typically, fishing is permitted from the shore and dock at the Boat House or from a Lake Logan canoe or jonboat. River fishing must be reserved.
Do not fish in the swim area. Do not fish from the dock when children are swimming.
Half-day is generally 8 AM-Noon or 1 – 5 PM.
For boating
No unregistered outside boats are allowed. NO EXCEPTIONS. 
Boat rental is included with day passes and season memberships.
Each occupant of a boat/SUP must have a PFD.
Do not cross orange boundary markers.

The rescue boat is off-limits to guests. It is the one in the boat house that says "Staff."
Do not drag boats on the pavement or gravel. They need to be picked up and carried.
Do not boat under the bridge onto the river. This disrupts fly fishing.
Use the right paddle for the right boat. (Kayak, canoe, john boat, and paddleboard – they all have different paddles.)
Put all equipment back in its place – hang jackets, paddles in their labeled location, boats upside down on racks, etc. Do not leave boats and equipment anywhere except at the boat house when not in use.
Parking
Effective, June 1, 2021, there is no parking at the Boat House. Boat House parking is located across Lake Logan Road on the Air Strip. See map below, and follow posted signs.
Parking is also available at the tennis courts by the field. This is most convenient for members accessing the river.
Our policies are in place for the safety and enjoyment of all Lake Logan guests and Camp Henry campers. Lake Logan reserves the right to cancel membership and guest pass privileges of any member or guest who does not obey our policies.
No refunds will be issued.